Seven Questions
What did we become?

Check here a nice  video impression from Japan about our circular approach
Zuurdesem starter voor zuurdesem brood
Where can I bough a sourdough starter?
Most dried sourdough starters sold online are fully dehydrated and inactive. It takes a few days to get a dehydrated sourdough starter to become active. Our sourdough starter is a live and is used daily in our bakery. You should be able to build it up and use it more quickly to make sourdough bread.  It can be purchased in the store or via the webshop.
Waar kan ik een zuurdesem starter kopen?
De meeste desem starters die on line verkocht worden zijn volledig uitgedroogd en daarom inactief. Het kost een aantal dagen om deze inactive volledig uitgedroogde starters actief te krijgen. Onze levende desem starter wordt dagelijks ingezet in onze bakkerij en kun je relatief snel opkweken en gebruiken voor het maken van zuurdesembrood. De zuurdesemstarter is in de  winkel of via de webshop te koop.
Special Workshop: Brain-nutrition, sourdough and lacto-fermentation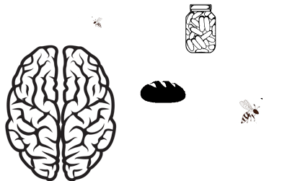 During this special workshop – held in our circular bakery – we will delve into the topic of brain health and its relationship with nutrition and fermented foods. We will explore the meaning of brain health and the role that nutrition plays in achieving it. Have you ever wondered why sourdough is often touted as a healthier alternative to yeast bread? What are lacto fermented pickles and how can we make the latter one easily at home?
Nourish your brain, Cultivate your gut!
Zoeken:
The Circular City: Towards a Sustainable Urban Ecosystem
How to inspire a multinational with stale bread?
100% Organic rye bread
Each flour has its own characteristics and methods to transform into something special and flavourful. Our head baker, Ferdinand Doumic, is working on a recipe and procedure  for a 100% rye, organic and sourdough bread, which will be available in our shop. The procedure and insights will eventually be included in a new workshop about this special grain.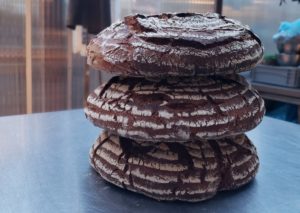 Baking Lab on TV
We recently appeared in Het Klokhuis, a TV program that has been very popular with children for decades. We were very happy to participate in the broadcast about "rising". In the episode, Renee Clausing (Baking Lab), together with presenter Eva Cleven, explains to the young home bakers how bread can rise. The makers of Het Klokhuis have incorporated their own humorous interpretation for bread rising in the episode. You have been warned! Watch the episode here.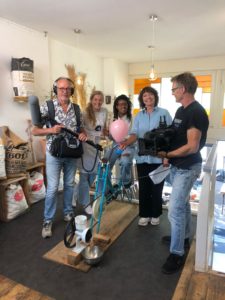 Science and senses workshop
Do you want to learn more about the science underlying the fermentation process and how to use your senses to improve this process? In this more advanced bread workshop we dive deeper into the science of fermentation and the way our senses perceive fermentation flavours. Understanding key concepts related to fermentation allows bakers to tweak recipes and methods and build a more meaningful and creative baking narrative. Click here for more information on our workshops.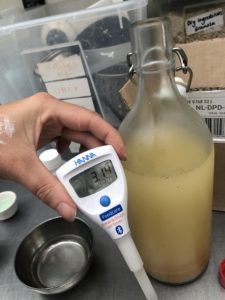 Bread and Bees
During the Science Weekend 2022, the bakers from Baking lab Amsterdam took up a challenge together with the Beekeeper from Jeugdland. On an adventurous Sunday in October, children in the gardens of Jeugdland asked the beekeeper and his bees how to prevent our bread from molding and how our food becomes sweet. Read more here!
Educational projects
In addition to the daily activities at our circular micro bakery we regularly work on educational projects in the background. On this page you can find a collection of the different projects we worked on last year, including a workshop with the University of Gastronomic Sciences and Rietveld Academy.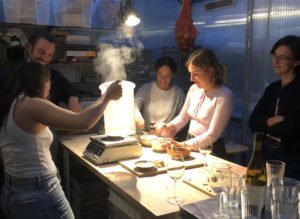 Sourdough map
Our sourdough starter is picked up almost every day by enthusiastic home bakers. Did you know our starter has travelled all the way to South America? All the different places our starter has been taken to are displayed on our sourdough map. The starter is available for purchase in our store.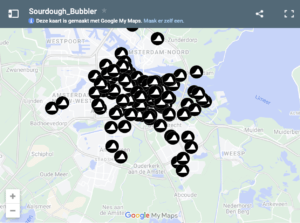 New items in our shop
Next to a broad assortment of (organic) flours, you can buy more fine goods in our shop. Alons pickles – which we include in several of our dishes in the cafe – are available in our shop. You can also pick up chocolate from Original Beans, several natural wines, coffee beans from Gosling Coffee and the YOBA yogurt starter culture.