Excuses, de kaartverkoop voor dit event is gesloten, omdat het event reeds verlopen is.
september 26, 2023




17:30 - 19:30
Beginner: Focaccia Workshop in English about 2h (€65)
About the class
In collaboration with Fabrizia from Youplant Amsterdam we are organizing a new workshop focused on creating your own focaccia with edible flowers and herbs. There are many ways of making focaccia, this event is focused on the process of making a simple one using the dough from the bakery, and explore the many possible combinations of edible plants to make your own creation.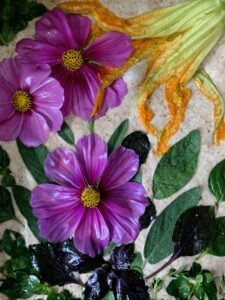 Intended for anyone (with or without experience) age 12 minimum

In this workshop, you will get to express your creativity, and leave with a focaccia of your own making
It is a very hands on workshop
Workshop elements:
Making a dough
Shaping of a focaccia
Adding edible flowers, herbs and vegetables as toppings for the focaccia
Baking your focaccia in our stone ovens

Take your focaccia home

Mediterranean snack and a drink included
Language: English
Additional information
Important note
Our courses provide more insight into key concepts related to the baking process and encourage students to use their senses to learn how to develop their own recipes, instead of repeating those from others. Click here for more background information about our workshops. The password to access some of the information on our website is included in the confirmation e-mail after buying a ticket.
Telefoon locatie 020 240 0158
Locatie website: http://www.bakinglab.nl/
Adres
Linnaeusstraat 99
,
Amsterdam
,
Noord-Holland
,
1093 EL
,
Netherlands
Beschrijving:

Baking Lab venue description.