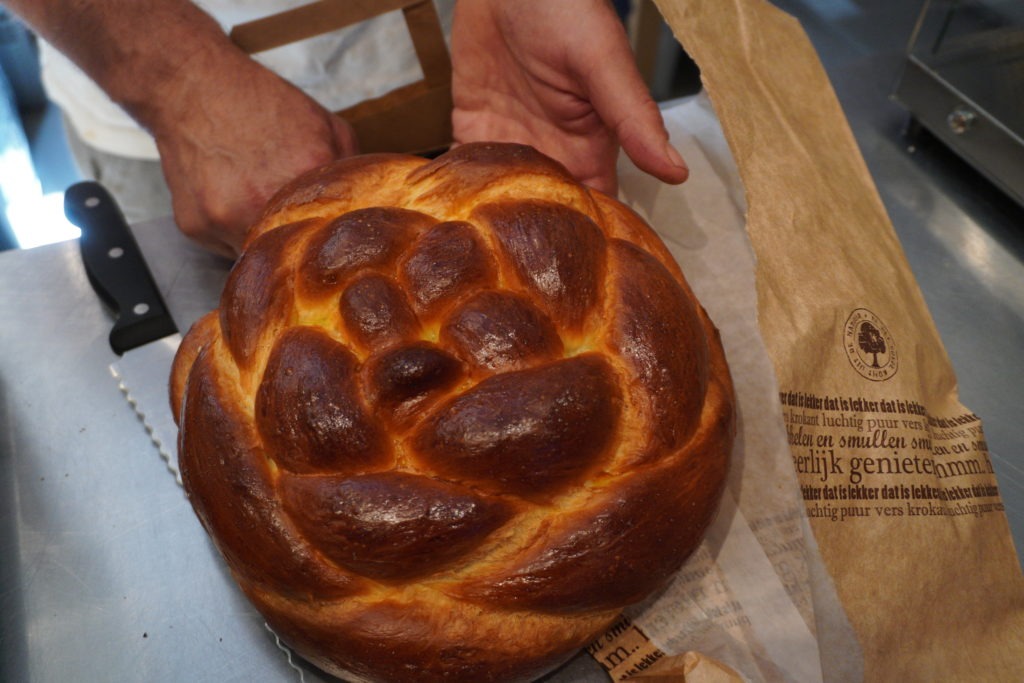 Inleiding
In box 1 maakte we gebruik van eiwitrijk Amerikaans patentbloem. Deze is niet standaard in de supermarkt te krijgen. Voor Rosj Hasjana maken we een nieuwe zoete challe met een recept waarvoor je alle ingrediënten ook bij de supermarkt kunt kopen.
Bloem en meel voor het maken van brood kun je in onze bakkerswinkel in Amsterdam Oost halen.
Begeleidende Video Instructies
Voor de challes in box 1 hebben we twee instructie video's gemaakt (kort en lang). Hierin zijn de algemene principes voor het maken van een challe toegelicht. De zoete challe voor Rosj Hasjana wijkt daar iets van af, maar de principes die in deze video's zijn besproken blijven hetzelfde. Bekijk dus eerst de video's van box 1 voordat je het recept voor deze zoete challe gaat lezen en maken. Let op, de verhoudingen voor het recept van de Rosj Hasjana challe (box 2) zijn anders dan in de video's die voor box 1 zijn gemaakt.
Ingedienten
| | |
| --- | --- |
| Geleverd in challe zak |   |
| half patent tarwe bloem ( ca 11 % eiwit) | 500 gram |
| keuken zout | 10 gram |
| kristal (tafel) suiker | 50 gram |
| 1 zakje Oetker instant gist | 7 gram |
Recept zoete challe
Naast de ingrediënten die in de challe mix zitten heb je voor deze zoete challe ook nodig:
| | |
| --- | --- |
| Extra ingrediënten die je nodig hebt |   |
| bio eieren (1 voor het bestrijken van de challe) | 3 stuks |
| plantaardige olie | 40 gram |
| water (handwarm / ca 35 °C) | 160 gram |
De zoete challe maken
Kluts eerst de 2 eieren en meng daarna 40 gram plantaardige olie en 50 gram kristal suiker goed door, voeg vervolgens handwarm water (ca.35 °C / 160 gram).
Meng het geheel goed door met b.v. een fork.
Voeg het zout toe aan het bloem, meng.
Voeg de instant gist (Oetker zakje) toe aan het bloem, meng.
Voeg de bloem mix toe aan het eerder gemaakte beslag. Doe dat in fases terwijl je goed mengt. Voorkom klonten. Zie methode video challe recept box 1.
Kneed het deeg, methode beschreven in video challe box 1
Laat het deeg 2 uur warm en afgedekt rijzen (ca 27 °C) en kneed minimaal 3 keer, om de 35 minuten kort het deeg, zie video challe box 1
Voor 1 -grote – ronde challe, verdeel het deeg in 4 gelijke stukken (ca 225 gram). Voor twee ronde challes verdeel je het deeg in 8 stukken van ca. 112 gram.
Laat deze deegstukjes nu 20 minuten afgedekt afkoelen in de koelkast.
Vorm vervolgens (door uitrollen) de stukjes deeg in lange strengen (stokjes).
Gebruik de strengen om een challe te vormen (rond of regulier), plaats de challe op een blad bedekt met bakpapier, dek wederom goed af met b.v. plastic om uitdroging te voorkomen. Zie foto's ronde challe hieronder.
Plaats vervolgens de afgedekte challe in de koeling, wacht ca 60 minuten of iets langer tot de challes duidelijk zijn gerezen, (1.5 a 2 keer in volume gerezen). Het  deeg zou afgekoeld moeten zijn naar ca 20 °C.
Verwarm ondertussen de oven voor, op 190 °C.
Klop het derde ei.
Haal de challes uit de koeling en bestrijk de challe met het geklopte ei.
Schuif de challe met bakpapier in de oven. Totale baktijd, ca 35 (goudbruine korst). De korst van de challe kan snel verkleuren door de suiker in het deeg, let op dat de challe niet te donker wordt.
Sjana Tova, eet smakelijk.
Ronde Challe Vlechten
Nog een video over het vlechten van een ronde challe
Meer over challes vlechten
Als je nu de smaak te pakken hebt gekregen en je wilt jouw kennis verder ontkiemen en leren hoe brood, jodendom en wetenschap vervlochten zijn, meld je dan aan voor een vervolgcursus. Bij voldoende aanmeldingen gaan we ons inzetten om een verdiepende – betaalde – online cursus aan te bieden.
klik hier om ons via een formulier te laten weten of je hiervoor belangstelling hebt.